Your Aberdeen Wings needed a shoot out on Saturday night to complete their 3rd consecutive sweep!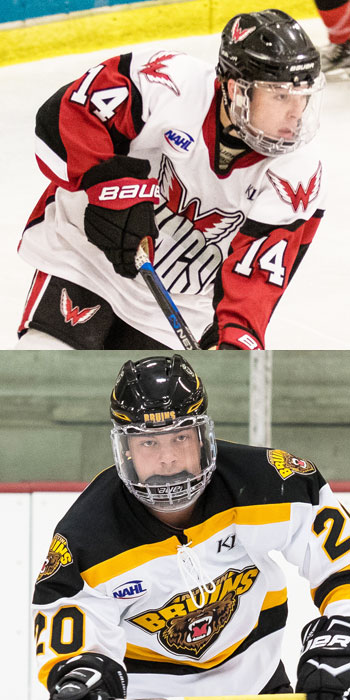 Friday Jan. 12th Bismarck 2 @ Aberdeen 5 – The Wings won their fifth game in a row as Aberdeen defeated the Bismarck Bobcats 5-2. Joe Strada and Colton Fletcher each scored a goal and had an assist. John Sladic, Evan Rochowiak and Zach Noble all scored as well in the win for the Wings. Gabe Vinal got the win in between the pipes as he made 18 saves. Aiden Gallacher and Alex Trombley found the back of the net for Bismarck and Jake Roberts made 19 stops for the Bobcats.
Bismarck 3 @ Aberdeen 4 (SO) – Joe Strada and Colton Fletcher scored in the shootout while Matt Vernon stopped both Bismarck shooters to give the Aberdeen Wings two points in the standings. Nathan Burke netted a shorthanded goal, his 20th of the season, and also tallied an assist in the victory. Strada picked up a goal in regulation as well as Jonathan Bendorf. Vernon only needed 14 saves but it was enough to get him his eighth win. Alex Pollock, Zach Van Sant and Lukas Millen all scored for the Bobcats while Jake Roberts made 24 saves.
With their 6th straight victory the Wings stay atop the Central Division standings with 44 points and a 21-11-2-0 record.  The Austin Bruins were able to close the gap on the Wings with 3 wins this past week, all against Brookings.  The Bruins have 43 points.  Following them are the Minnesota Wilderness, who the Wings will host this coming weekend with 39 points, but also 2 more games played then both the Bruins and the Wings.  Minot & Bismarck are tied with 35 points and Brookings bottoms out the Central with 32 points.
As I mentioned before the Wings will continue their home stand this weekend when they host the Minnesota Wilderness for a pair of games at the Odde.  Be on the look out for Wings Weekly early this week to find out all the latest news and updates on the Aberdeen Wings!