Wings take over Central lead with 5-1 win on Tuesday
DECEMBER 11, 2019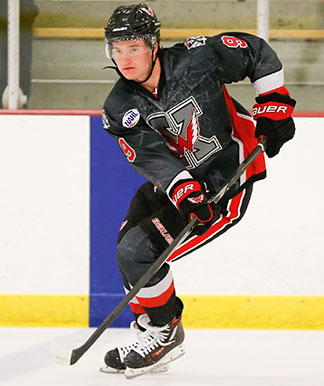 Aberdeen 5 @ Minot 1 – Aberdeen Wings goalie Henry Welsch made 33 saves and forward Clayton Cosentino had two goals to lead the Wings to a 5-1 road win in Minot on Tuesday and claim sole possession of 1st place in the Central Division.
The Wings got on the board first in the 1st period thanks to a power play goal from Mack Byers. The Wings would then add two more goals as Cosentino scored less than two minutes into the 2nd period with the eventual game-winning goal, which made it 2-0. Less than three minutes later, Riley Murphy's 11th goal of the season made it 3-0.
In the 3rd period, the Wings netted two more goals including a goal from defenseman Pierson Brandon and another from Cosentino. Cade Stibbe scored Minot's lone goal, which came in the late stages of the 3rd period.
Minot goalie Ben Garrity faced a season-high 50 shots in the loss and made 45 saves.
The Wings will be back in action this weekend with a home and home series with Bismarck.  Friday night the Wings will host the Bobcats at the Odde Ice Center.  Integrity Ag is the Hub City Harley Davidson Corporate Game Sponsor.  Kids can meet Santa and Mrs. Clause before the game!  Bring your skates and Skate With The Wings following the game!
Saturday the Wings will head to Bismarck, and we will be taking a fan bus up to cheer them on!  Tickets are just $60 and include rides to and from and your game ticket!  The Bus will load at 1 and leave the Odde parking lot at 1:30.  For more information or to reserve your spot call Aaron @ 605-380-5852!