Wings move into 1st place with win on Tuesday
DECEMBER 5, 2018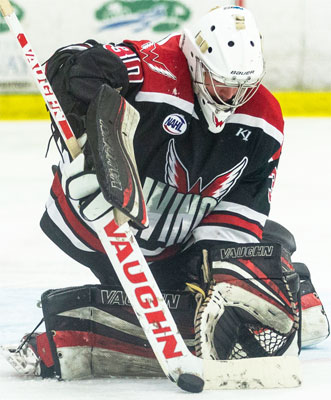 Aberdeen 2 @ Brookings 1 – Reigning Central Division Star of the Week Shawn Kennedy scored the game-winning goal late in the 3rd period and goaltender Matt Vernon made 30 saves to lead the Wings to a 2-1 road win in Brookings on Tuesday night. The win moved Aberdeen into sole possession of 1st place in the Central Division.
After a scoreless 1st period, the Blizzard were the ones on the board first as they took advantage of a power play goal from Vince Marino, who got free down the left wing and fired a shot that beat Vernon for a 1-0 lead. Late in the period, the Wings faced another penalty kill, but this time turned it into the game-tying goal as a shorthanded 2-on-1 lead to a nice pass from Thomas Rocco to defenseman Dalton Weigel, who wired a slapshot past Brookings goalie George McBey to tied the game at 1-1 after two periods.
In the 3rd period, the Wings got the game-winner from Kennedy with just under five minutes remaining in regulation as he broke down the right hand side to chase a puck in the corner. Kennedy then sent a pass from behind the goal line to the front of the net, which banked off McBey and into the back of the net for the decider.
The win was Aberdeen's third straight, while it was the seventh straight loss for the Blizzard. Vernon was stellar in the win, making 30 saves and improving his record to 14-4-2 on the season, while McBey made 24 saves in the loss and saw his record drop to 1-5-0 with the Blizzard this season.
The Wings will return to the Odde for a 2 game set vs the Minnesota Wilderness this Friday & Saturday night!  Saturday night is the Aberdeen Area BMX Jersey Auction with Val Jark or Jark Worlie Auctions.