Wings Way: Aberdeen Wings win 2019 Robertson Cup Championship
MAY 15, 2019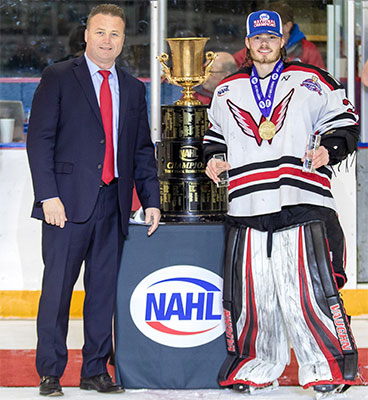 BLAINE, MINNESOTA – Thanks to another outstanding performance from Robertson Cup Most Valuable Player and goaltender Matt Vernon, the Aberdeen Wings captured their first-ever North American Hockey League (NAHL) Robertson Cup National Championship thanks to a 2-1 win on Tuesday night over the Fairbanks Ice Dogs at Fogerty Arena in Blaine, Minnesota.
The first period started with Fairbanks setting the offensive pace, but Vernon was equal to the task with several big saves early in the contest. The Wings mounted their own pressure and after some saves by goalie Mattias Sholl, the Wings finally broke through for the game's first goal as forward John Sladic gathered some speed down the left wing, beat a defender and slipped a shot past Sholl for a 1-0 lead at the end of the 1st period.
In the 2nd period, both teams ramped the offense up as both goalies were tested early in the period. The Ice Dogs were able to tie the game as some nice cycling in the offensive zone got the puck to the point for Trenton Woods, whose shot was deflected by Tanner Edwards. Vernon made the initial save, but the rebound came to his right and Ice Dogs forward Parker Brown put it home to tie the game at 1-1. Late in the period, the Wings regained their one-goal edge as with just :14 seconds remaining in the period, Joey Strada got a nice return pass from defenseman Dalton Weigel to tip home a pass past Sholl for a 2-1 lead on what would be the eventual game-winning goal.
The 3rd period was a pure goaltending display by both Vernon and Sholl, who made several highlight reel stops. The Ice Dogs had a great chance with three minutes to go, but Vernon stretched to his left for a remarkable pad save. With under two minutes remaining in regulation, the Ice Dogs went on the power play, but thanks to some very good Wings penalty killing, the clock ticked down and the Wings claimed the 2-1 win and first National Championship
Vernon made 27 saves in the win and allowed just one goal on 58 shots in the Wings final two games of the Robertston Cup. Sholl made 20 saves in the loss.
The Robertson Cup is awarded to the national playoff champion of the North American Hockey League. The oldest junior hockey trophy in the United States, the Robertson Cup is named in honor of Chuck Robertson, a pioneer of junior hockey in the NAHL and youth hockey in the state of Michigan. Robertson was the owner of the Paddock Pools Saints when they won a record seven straight championships from 1976-83.
2019 NAHL Robertson Cup All-Tournament Team
Forward: Jonathan Bendorf, Aberdeen Wings
Forward: Jonathan Sorenson, Fairbanks Ice Dogs
Forward: John Sladic, Aberdeen Wings
Defense: Noah Wilson, Fairbanks Ice Dogs
Defense: Chris Trouba, Johnstown Tomahawks
Goaltender & Most Valuable Player: Matt Vernon, Aberdeen Wings