Langer reaches milestone with 500th win
MARCH 20, 2018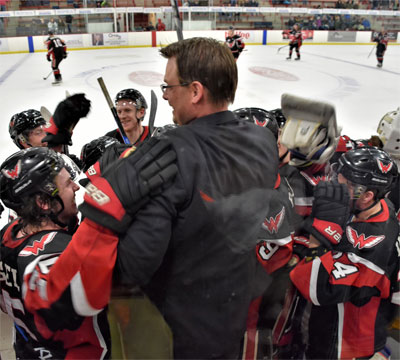 If you had asked North American Hockey League (NAHL) and Aberdeen Wings head coach Scott Langer over the past week if he knew how close to 500 career wins he was, he would have answered with a very succinct "no."  Now, he doesn't have to worry about it.
This past Friday, the Aberdeen Wings posted a 3-1 win over the Brookings Blizzard, and with that, gave Langer his 500th career coaching victory. The Wings improve to 34-15-3-1 and are 10 points ahead of Austin for top spot in the NAHL Central Division.
For Langer, who also recorded career win No. 450 during his first season on the bench for the Wings one year ago, getting the 500-win milestone couldn't have happened in better place than the Hub City.
"Getting it was special, and doing it (for) Aberdeen, it's just great," Langer said. "To be able to share it with people who really care about me and my family is just a great feeling. The Oddes' had a belief in me when they brought me here, so to share this win with them and with this team, who's done such a great job all year, its special, no question about it."
Langer continued, "I am very proud to coach in the North American Hockey League, and that all of my 500 wins were earned in this league. I think that the ability to produce not only wins, but also advancement for our players, is a direct result of the quality of the league. It allows me to do my job easier, and create successful results."
NAHL Commissioner and President Mark Frankenfeld also offered his congratulations to Langer on his 500th win. "Scott is one of the most dedicated and professional coaches I've had the pleasure to know.  Scott takes the recruiting, developing and promoting responsibilities very serious and has developed some unbelievable young men and hockey players.  It is not by accident that all the hard work and commitment he puts forth for his players that the byproduct has produced success on the ice and in the win column.  Scott has built winning programs at every stop along the way and we are proud of what he has done for the NAHL and the Aberdeen Wings," stated Frankenfeld.
Langer was hired by the Wings back on April 13, 2016. Since that point, he has compiled a 64-39-11 record with Aberdeen the past two seasons. Last year, the Wings finished in 4th place during the regular season, but won the Central Division playoff title as a #4 seed and were an overtime goal away in Game 3 of the Robertson Cup Semi-Finals from advancing to the Robertson Cup National Championship game.
Named NAHL GM of the year in 2010, and Coach of the Year in 2011, Langer has also been a coach at the NAHL Top Prospects Tournament nine times. He has a very successful track record for graduating student-athletes and has helped place over 250 junior hockey players into NCAA college programs or Professional hockey. Langer's teams have finished no less than second place in their division, including several Division Championships, one Regular Season League Championship, and three trips to the Robertson Cup Tournament.
As for beyond the 500-win mark, Langer does have one accomplishment on his agenda.
"We want to win the Central Division regular season title," Langer said. "This group has earned it and to finish as regular season champs is something they deserve at this point."
Langer has been coaching for 21 years, and has been a head coach in the NAHL for the past 14 years with three different clubs, the Aberdeen Wings, the Topeka RoadRunners, and Santa Fe RoadRunners. He has a combined record of 501 wins, 218 loses, and 71 overtime/shootout losses in those 14 seasons, with an impressive 68% win percentage. 11 of those seasons had over 30 wins, while four of them had over 40 wins.