Team NAHL announces roster for 2019 Sirius Junior Club World Cup
JULY 9, 2019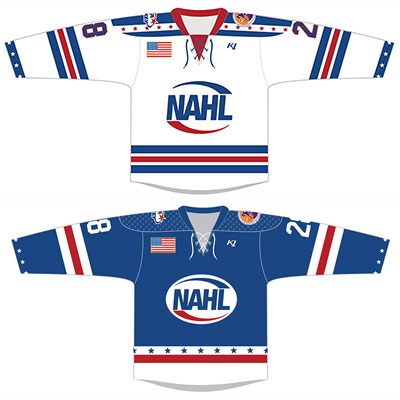 The North American Hockey League (NAHL) is pleased to announce the 24-man roster for Team NAHL that will be competing at the 2019 Sirius Junior Club World Cup.
Team NAHL is comprised of a 24-man roster featuring one player from each of the 24 teams that competed in the NAHL during the 2018-19 season. The roster is limited to five players with 1999 birth years.
Forwards (14): Max Borst (Maryland Black Bears), Jack Conroy (Odessa Jackalopes), Garrett Dahm (Austin Bruins), Andrew DeCarlo (Lone Star Brahmas), Billy Feczko (Shreveport Mudbugs), Nate Norn (Minnesota Wilderness), Carter Hottmann (Janesville Jets), John Jaworski (Northeast Generals), Austin Jouppi (Bismarck Bobcats), Killian Kiecker-Olson (Chippewa Steel), Brandon Lajoie (Kenai River Brown Bears), Austin McCarthy (Topeka Pilots), Gabe Temple (Wilkes-Barre/Scranton Knights), Nick Trela (Amarillo Bulls) 
Defensemen (8): Jake Beaune (Aberdeen Wings), Seth Bergeron (Jamestown Rebels), Tyler Love (Corpus Christi IceRays), Brody Medeiros (New Jersey Titans), Alex Murray (St. Cloud Blizzard), Sam Skinner (Minot Minotauros), Colin Stein (Minnesota Magicians), Chris Trouba (Johnstown Tomahawks)
Goaltenders (2): Mattias Sholl (Fairbanks Ice Dogs), Jack Williams (Springfield Jr. Blues)
Team NAHL will be coached by Aberdeen Wings head coach Scott Langer, who will serve as head coach and Amarillo Bulls head coach Rocky Russo, who will be the assistant coach.
Team NAHL will be in Pool B and will compete in round-robin play against Oulun Karpat (Finland), Red Bull Salzburg (Austria), and HC Ocelari Trinec (Czech Republic). Pool A features Lokomotiv (Russia), Albert Junior Hockey League (Canada), Modo Hockey (Sweden), and HC Davos (Switzerland).
Team NAHL Schedule (all times central)
Monday, August 19 – Exhibition Game, Team NAHL vs. Krylya Sovetov (Moscow), 5:00am
Saturday, August 24 – Round-Robin Game #1, Team NAHL vs. Oulun Karpat, 11:00am
Monday, August 26 – Round-Robin Game #2, Team NAHL vs. Red Bull Salzburg, 11:00am
Wednesday, August 28 – Round-Robin Game #3, Team NAHL vs. HC Ocelari Trinec, 11:00am
Thursday, August 29 – 5th and 7th place games, 7:00am and 11:00am
Friday, August 30 – Semi-Final games, 7:00am and 11:00am
Saturday, August 31  – 3rd place game, 7:00am – Championship Game, 11:00am
The 2019 Sirius Junior Club World Cup will be held at the home of the XXII Olympic Winter Games in Sochi, Russia from August 23-31, 2019. The annual tournament, which is sanctioned by the International Ice Hockey Federation (IIHF), brings together world-class junior hockey clubs from various countries for competition. Games will be played at the Shayba Arena, which is a 7,000-seat multi-purpose arena located at Sochi Olympic Park in Adler.