Wings win Central, punch final ticket to Robertson Cup
MAY 8, 2017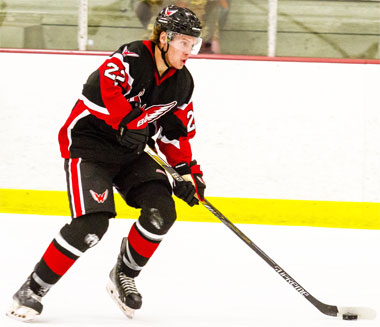 Central Division Finals, Game 5: Aberdeen Wings 1 @ Minnesota Wilderness 0 (OT) – Although Wings forward Colin Raver had just 12 goals in the regular season, he has made the most of the Aberdeen Wings playoff run, as the 20-year-old forward potted his 6th goal of the playoffs to give the Wings a 1-0 overtime win on the road in Cloquet against the Minnesota Wilderness to claim the Central Division playoff crown and final spot in the 2017 NAHL Robertson Cup Championship.
The game was a showcase between the two goalies who faced plenty of shots. Both Aberdeen goalie Forbes Ploszaj and Wilderness goalie Trevor Micucci brought their A games to Game 5 as both made several incredible saves throughout the four periods.
The Wilderness had four power plays to try and gain the edge, but would come up empty. Likewise for the Wings and their two power plays of the night, including one in overtime where Micucci made several key stops.
In the end, the Wings, who had the more quality chances in overtime, were able to wear down the Wilderness with some nice cycling in the offensive zone as Tyler Bossert took the puck behind the net and threaded a pass out front where Raver was waiting all along for a one-timer that beat a helpless Micucci to the glove side for the game-winner and series clincher.
Aberdeen netminder Forbes Ploszaj made 46 saves for the shutout, while Trevor Micucci stopped 42 shots for the Wilderness. The Aberdeen Wings advance to the Roberston Cup this weekend in Duluth, and earn the title of Central Division Champions.