NAHL announces 2017 Top Prospects rosters
FEBRUARY 10, 2017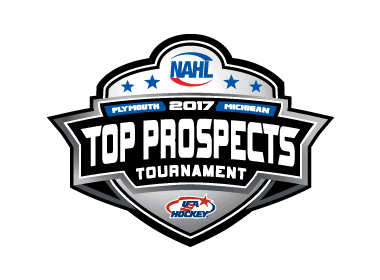 The North American Hockey League (NAHL) has announced the rosters for the 2017 NAHL Top Prospects Tournament, which will be held from February 27-28, 2017 at USA Hockey Arena in Plymouth, Michigan. The number of players each NAHL team is sending to the tournament was based on each team's winning percentage within their group as of February 5, 2017.
The NAHL Top Prospects Tournament is one of the most highly-scouted events in junior hockey.  Last season, over 220 scouts attended the event, which featured almost every NHL team and NCAA Division I school. It continues to be an important part of the NAHL event model, which includes the NAHL Showcase in September and the NAHL Robertson Cup National Championship in May.
One of the things the NAHL does better than any other junior league is seeing their players earn an NCAA opportunity while playing and being showcased in the NAHL. To date, over 130+ players have already made NCAA Division I commitments during the 2016-17 season. The NAHL Top Prospects Tournament plays a big role in that success, with over half of the players who played in last year's Top Prospects Tournament, earning an NCAA Division I opportunity following their participation in the event.
2017 NAHL Top Prospects Tournament Schedule (subject to change, all times eastern)
Monday, February 27th
1:00pm: Central Division vs. Midwest Division
4:00pm: East Division vs. NAHL Selects
7:00pm: South Division vs. USNTDP
Tuesday, February 28th 
11:00am: Midwest Division vs. East Division
2:00pm: Central Division vs. South Division
5:00pm: NAHL Selects vs. USNTDP
For complete NAHL Top Prospects event information, including tickets, scout information, hotels, rental cars and more, please visit the NAHL Top Prospects event page: 
http://nahl.com/tpt/
In addition, the NAHL has also announced the on-ice officials who have been selected for the event. They are (alphabetical order): Chad Fuller, Patrick Giles, Bryon Guerin, Shane Gustafson, Jake Jackson, Darek Kalisz, Jake Rekucki, Steve Sailor, Chase Wilkinson and Chris Williams.
The NAHL is also pleased to announce that the US National Team Development Program (NTDP) will also take part in the NAHL event. The NAHL and the NTDP have a rich and productive 12-year history together, as the NTDP was a full-time member of the NAHL from 1997-2009 and has been a part of the NAHL Top Prospects Tournament for the past two seasons.