Wings edge Minotauros on Tuesday in a shootout, 4-3
JANUARY 15, 2020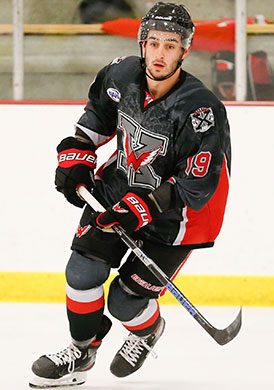 Aberdeen 4 @ Minot 3 (SO) – The Wings survived a last-second goal from the Minotauros in regulation and took home the extra point in a 4-3 shootout win in Minot on Tuesday night.
The Wings passed their way to a clinical opening goal at 3:46 into the contest. With his team-leading 24th assist, Jakob Breault setup Huston Karpman for a simple finish around Minotauros goaltender AJ Ruskowski. From the team leader in assists to the Wings' top goal scorer, Nathan Vertes put Aberdeen up 2-0 later in the period with a backdoor tap-in for his 16th goal of the season.
Minot turned the scoreline around with two second-period goals. Defenseman Will Crull shot from in front of his bench and got lucky with traffic in front to score the Minotauros' first goal. The puck even grazed off Welsch before finding the back of the net. With 15 seconds left in the period, Dan Russell stole the puck in the neutral zone to create a 2-on-1 breakaway. Unselfishly, Russell slid the puck over to Kyler Kleven for a one-time rocket into the top corner, 2-2.
The score remained 2-2 late in the game until Wings forward Connor Beatty deked around a defender and lifted the puck over Ruskowski. A dazzling individual effort looked to be a dagger for the Minotauros. However, Crull had other ideas. The defender got lucky once again, tying the game with 0.6 seconds on the clock with a shot from the point through traffic.
Riley Murphy, who had an assist in the game, was the lone scorer of the six shooters in the shootout to give Aberdeen the extra point and an eight point lead atop the Central Division standings.
Wings goalie Henry Welsch made 38 saves in the win, while AJ Ruskowski made 32 saves in the loss.
The Wings will be back in action this Friday & Saturday when they host the St. Cloud Blizzard.  Tickets are on sale now at any of the C-Express locations in Aberdeen!